09 Apr

The new logo of the Greek Presidency of the Council of Europe created by the Department of Graphic and Visual Communication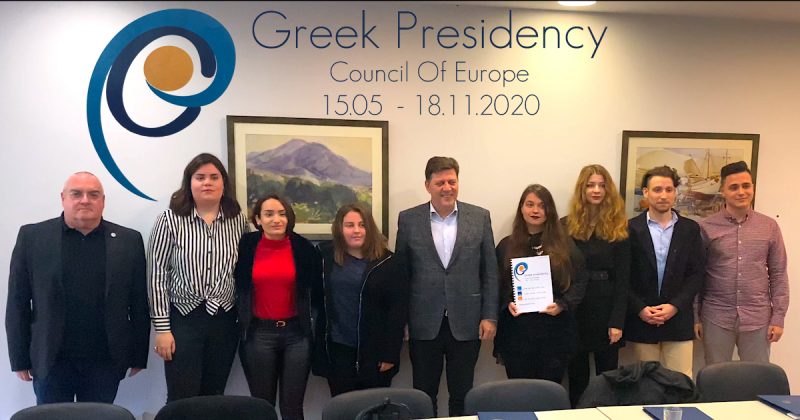 Greece, Europe and Humanity are at the focal point of the Council of Europe's logo during the upcoming Greek Presidency. Greek colours, humanistic symbolism referring to the basic human rights and the idea of Man in the centre as the Greek sun come together in a spiral pattern. Τhe logo is formed abstractly by the acronym of the international organization (C.O.E), combined with the letter G of the host country, Greece.
Deputy Foreign Minister Miltiadis Varvitsiotis had a worm meeting with the Dean of the University of West Attica, Panagiotis Kaldis, the professors and the students of the Department of Graphic Design and Visual Communication of the University of West Attica who participated in the competition.
The participating students were: Papanikolaou Nikolaos, Alevizou Maria, Costoglou Maria, Bora Hatzirai, Karadimitros Simos, Skandalis Margarita, Tzorgoglou Magdalini Hara, Fyllros Giorgos Promantis, and also the research associate Manou Prodromos.
Mr Varvitsiotis congratulated both the University for the high level of studies and the students for their inspired proposals, adding that "we must trust the young people ".
The logo that was selected, and it will be the official brand of the Greek Presidency, is created by the student Bora Hadjirai.
Greece will take over the Presidency of the Council of Europe in the second half of 2020 (15.5 to 18.11.2020), which coincides with the 70th anniversary of the signing of the European Convention on Human Rights (Rome 4/11/1950).